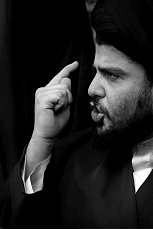 Muqtada al Sadr.
The Mahdi Army suffered a significant blow during fighting against Iraqi and Coalition forces this year, according to an Iraq intelligence report. The heavy casualties suffered by the Mahdi Army have forced Muqtada al Sadr, the leader of the Mahdi Army and the Sadrist political movement, to change his tactics and disband the Mahdi Army in favor of a small, secretive fighting force.
"More than 2,000 cadres from the Mahdi Army leaders were killed recently," an Iraqi intelligence official told Gulf News. "This led to the almost complete collapse of the army," the official said. An estimated 1,300 Mahdi Army fighters "escaped to safe houses in Iran." Muqtada al Sadr currently resides in Qom, Iran, under the protection of Iran's Qods Force.
The Mahdi Army took heavy casualties while opposing the Iraqi security forces in Basrah and the South and against US and Iraqi forces in Sadr City during operations to secure the areas in March, April, and May. More than 1,000 Mahdi Army fighters were killed in Sadr City alone, according to a Mahdi Army commander in Baghdad. Another 415 were killed in Basrah. More than 400 were killed during fighting in the southern cities of Najaf, Karbala, Hillah, Diwaniyah, Amarah, Samawah, and Nasiriyah in late March and early April, according to numbers compiled by The Long War Journal. Thousands more have been wounded our captured.
The setbacks in Baghdad, Basrah, and the South have forced Sadr to turn the Mahdi Army into "a secret military organization," the Iraqi report stated. "The number of members doesn't exceed 150-200, hugely down from the total estimated number of 50,000 in the past two years."
Iraqi intelligence believes the Mahdi Army, which is funded and supported by Iran, "will be somewhat [similar] to Al Qaida and some of the other Sunni armed groups and will have to carry out quality operations against US forces and assassinate some of the important Iraqi figures [to prove itself]."
The Iraqi report counters the current narrative on the Mahdi Army's strategy. Analysts have stated the Mahdi Army cleverly melted away to avoid confrontation with the Iraqi military and wait out the US military until it withdraws. The intelligence report suggests Sadr was forced to change strategy and retreat in the face of heavy casualties and dwindling support from the Shia population.
Sadr ordered the Mahdi Army to disband and created the small cadre of secretive fighters on June 13. Two days later he ordered the Sadrist block to withdraw from the provincial elections, and instead said the movement would infiltrate candidates into independent blocs.
The US military began targeting the senior leadership of the Mahdi Army in late 2006, and targeted the Iranian-backed elements in earnest during "the surge" in the spring, summer, and fall of 2007.
Operations against the Mahdi Army continue
Iraqi and US forces have not rested after successful operations against the Mahdi Army in Baghdad, Basrah, and the wider South from March to June.
A large operation is under way in Maysan province, once a stronghold for the Mahdi Army and the Sadrist movement. Iraqi security forces have detained 174 "wanted persons" in and around Amarah, the provincial capital, since operations began two weeks ago. The mayor of Amarah, several provincial council members, and several Mahdi Army commanders have been arrested during the operation.
Iraqi and US forces have conducted multiple raids against the Mahdi Army in Baghdad and Hillah over the past week, detaining more than 100 Mahdi Army fighters and several senior leaders.
Iraqi and US forces detained three senior-level Mahdi Army commanders during raids in Baghdad and Hillah on June 20 and 21. One of the commanders was responsible for the southeastern district in Baghdad, another was assigned to promote Mahdi Army leaders in Baghdad and has close connection to the Sadrist movement in Najaf, and the third was a senior leader in Hillah.
In a June 22 raid in Baghdad, Iraqi soldiers captured "an Iranian surrogate, reportedly in charge of more than 100 individuals" behind improvised explosive device and explosively formed penetrator attacks and a "key financier." Iraqi soldiers also captured a leader of a Mahdi Army "criminal network who is suspected of being a financier who directs, coordinates and funds operations in the surrounding cities, including trafficking weapons and providing safe havens for criminals" in Zubadiyah south of Baghdad. An IED cell leader was captured by US troops in Baghdad on June 24.
On June 21, Iraqi forces detained Sayyid Tahseen, a senior member of Muqtada al Sadr's political movement, in Al Kut in Wasit province. Iraqi police described Tahseen as "one of the most important individual wanted by security forces" who is "wanted for more than 45 cases, including armed operations against security forces, in addition to killing and abduction of innocent people."
On June 26, Coalition forces captured a senior "Special Groups" leader and three associates late during an operation in Ash Shumali near Hillah. The Mahdi Army leader has "ties to some of the highest levels of the Iranian-sponsored organization."
Scores of lower-level Mahdi Army fighters have been captured over the past week. Iraqi Special Operations Forces captured three Mahdi Army fighters in the Shula neighborhood in Baghdad on June 20. US troops captured a Mahdi Army fighter in the Rashid district of southern Baghdad on June 21 and killed six Mahdi Army fighters as they planted IEDs in New Baghdad on June 22. Over the weekend, Iraqi security forces detained 65 Mahdi Army fighters and seized weapons caches during operations north of the city of Nasiriyah in Dhi Qhar province.
Iraqi security forces detained 37 Mahdi Army fighters during separate raids in Hillah on June 23. US troops also found a vehicle with nine of the Mahdi Army-built improvised rocket-assisted mortars, otherwise know as "flying IEDs," in the Kadamiyah district in Baghdad.
The Mahdi Army has fought back, killing three US soldiers and two US civilians in Baghdad. Two US soldiers, two US civilians, and six Iraqis were killed June 24 in a bombing at a government center in Sadr City. The US military said a Special Groups operative was behind the attack. On June 25, a US soldier was killed in an EFP attack in Baghdad.
Are you a dedicated reader of FDD's Long War Journal? Has our research benefitted you or your team over the years? Support our independent reporting and analysis today by considering a one-time or monthly donation. Thanks for reading! You can make a tax-deductible donation here.