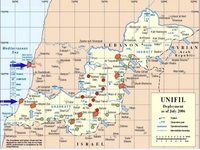 Southern Lebanon. Green indicates Israeli occupied town; red IDF warned towns of operations; yellow Israeli airstrikes; orange clashes. Click map to view.
Israeli Defense Force commandos have conducted another behind the lines raid in Hezbollah territory, this time in the town of Ras al-Biyada (Al Bayyadah on the map), which sits on the Lebanese coast about five kilometers north of the Israeli border. Reports indicate 30 to 40 commandos were inserted by helicopter near Ras al-Biyada, the target being an apartment complex. Five Lebanese are reported to have been killed and 8 IDF commandos were wounded. The Ras Al-Biyada raid follows the raid in Tyre and Baalbek, as well as 15 other special operations missions behind enemy lines.
The IDF special operations missions in Hezbollah territory come with great risk, and demonstrate Israel's abilities to hit Hezbollah with ground forces away from the front lines. These missions have a psychological impact on both Hezbollah and the Israelis.
But the Ras Al-Biyada raid also demonstrates just how shallow the Israeli penetration is in southern Lebanon. Ras Al-Biyad is but 5 kilometers from the border, yet the IDF had to perform a helicopter insertion of commandos in a region where there is well developed road system running northward up the coast. Hezbollah indicates they clashed with the IDF in Shama to the east Al-Biyada, but this could not be independently confirmed. Clashes have been reported in Bint Jubayl, Tayybayah, Hula, Dibil, and Ayta al Shaba. Israel is said to be in 20 villages and towns along the border. A look at the battle map shows that the IDF appears to be sticking to the 6-8 kilometer buffer zone, and shaping their operations to meet this goal.
The Jerusalem Post reports the "IDF ditches plans to reach Litani River" as the IDF "finished recreating the 10-kilometer-deep security zone Israel held during its 18-year presence in Lebanon which ended in 2000." The Israeli government appears to be banking on a political solution as opposed to striking further at Hezbollah's operational capabilities.
While the IDF initially had planned to send troops north to the Litani River – a line from which officials said it would be easier to prevent rocket attacks – high-ranking military sources told The Jerusalem Post on Sunday that due to the mounting diplomatic pressure the plan had been deferred for the time being.
At this point in time it appears the Israeli government has yet to formulate a coherent military strategy to deal with Hezbollah's military organization and their short range and mid range rockets, which continue to rain down of Israeli cities and towns at a rate of 150 to 200 per day. Hezbollah is not only surviving the IDF attacks, it is striking deep inside Israeli territory. This is not going unnoticed in the Muslim and Arab world. hezbollah's prestige grows daily.
Israel can now add armed Unmanned Aerial Vehicles (UAVs) to the potential Hezbollah threat. The Israeli Air Force shot down a Hezbollah Misrad-1 UAV off the coast of Acre, which is 15 kilometers north of Haifa. The Misrad-1 can carry a 45 kilogram warhead, and although there was speculation this UAV was armed, the Israeli Air Force denied this.
Are you a dedicated reader of FDD's Long War Journal? Has our research benefitted you or your team over the years? Support our independent reporting and analysis today by considering a one-time or monthly donation. Thanks for reading! You can make a tax-deductible donation here.