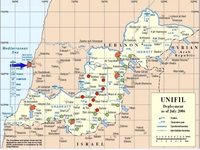 Southern Lebanon. Green indicates Israeli occupied town; red IDF warned towns of operations; yellow Israeli airstrikes; orange clashes; dark blue IDF commando raid. Click map to view.
The naval commandos of Flotilla 13, one of the Israeli Defense Force's elite units, conducted a raid into the heart of Tyre, striking at what is described as "those responsible for the firing of strategic weapons from a vehicle inside a built-up neighborhood." The target was a Hezbollah missile team located on the second floor of a 16 floor apartment building in the dense, urban environment of Tyre. The commandos from Flotilla 13 were inserted via helicopters, stormed the building, and killed 3 Hezbollah fighters, then killed another 10 in fighting outside the apartment. The Israeli commandos took 10 casualties, including two seriously wounded.
The raid in Tyre is the " 17th time IDF commando units were deployed deep inside Lebanese territory," according to Ynet News, and follows the raid on Baalbek deep inside Hezbollah's stronghold of the Bekaa Valley. "The IDF wished to issue a message of deterrence with the raid, indicating that long-range fire deep into Israeli territory would incur immediate consequences," reports Ynet News. A similar statement was made about the Baalbek raid.
The Tyre raid follows Hezbollah's longest rocket launch to date. Hezbollah hit the Israeli city of Hadera with a rocket launched from the city of Tyre. Hadera is 90 kilometers south of the Lebanese border, and a launch from Tyre indicates the rocket would have had to travel approximately 110km. The missile is described as a Khaibar-1, which purportedly is a renamed Fajr-5, but the Fajr-5 is said to have a maximum range of 75km. The Iranian made Zelzal-2 can strike in this range, but Ynet News reports "Police sappers are currently inspecting the rockets' parts and have been able to determine that they are probably old Syrian 302 rockets." Today, over 170 misiles rained down on northern Israel, with about 130 fired within the span of one hour. Hezbollah still possesses command and control over its missile batteries four weeks into the conflict.
Iranian officials admit they supplied Hezbollah with the long-range Zelzal missiles, and according to Jane's Defense Weekly, "Iranian authorities conveyed a message to the Hezbollah leadership that their forces would continue to receive a steady supply of weapons systems." "We are told the latest meeting was attended by senior representatives of the Islamic Revolutionary Guards Corps' Qods force which is responsible for training and logistic support for Iranian-backed insurgent groups," reports Jane's Defense Weekly. Hezbollah is requesting anti-aircraft missiles and other sophisticated weaponry.
Israeli leaders have indicated long range missile attacks on Tel Aviv would prompt a "massive response," but the message sent to Hezbollah is that strikes on the northern Israeli cities and towns is acceptable to some degree. Israel is signaling it is hesitant to go into the Bekaa Valley on the ground, which is what is needed to root out Hezbollah's infrastructure and close the supply lines from Syria. Air strikes and limited, targeted raids are effective only to a degree, and the Syrian and Iranian resupply will continue along secondary roads and smuggler's routes. A resupply with longer range weapons will negate the value of the currently planned 6-8km buffer zone.
Are you a dedicated reader of FDD's Long War Journal? Has our research benefitted you or your team over the years? Support our independent reporting and analysis today by considering a one-time or monthly donation. Thanks for reading! You can make a tax-deductible donation here.