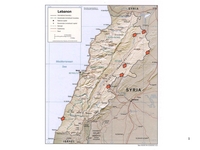 Location of Israeli airstrikes in the Bekaa Valley and Tyre, and the raid on Baalbek. Click map to view.
Israeli commandos made a bold strike deep into Lebanon's Bekaa Valley, the heart of Hezbollah's empire. Israeli helicopters, backed by the Israeli Air Force, inserted an unknown number of commandos, who proceeded to the target, a Hezbollah-run hospital which is believed to have sheltered senior Hezbollah commanders. This operation appears to have been carried out in conjunction with a series of air strikes in the Bekaa Valley, including attacks on Hermel, another Hezbollah strong hold and crossings at the Syrian border.
The commandos were extracted from the scene after a fierce gun battle which included air strikes and strafing runs on Hezbollah positions outside the hospital, The commandos did not leave empty handed, and "took a number of Hizbullah officials captive." Haaretz reports 3 to 5 "junior Hezbollah militants" were captured, and several more were killed during the raid. "[Lebanese sources] identified the men as Hussein Nasrallah, Hussein al-Burji and Ahmed al-Ghotah and described them as low ranking members of the group," according to Haaretz, and "The captured Hussein Nasrallah has the same name as a Hezbollah leader, Hassan Nasrallah."
Early reports, based solely on Hezbollah 'spokesmen,' indicated the Israeli commandos were "trapped inside as [Hezbollah] fighters opened fire on them." The same spokesman claimed the Israelis did not capture Hezbollah leaders.
The raid was most likely carried out by the commandos of the Sayeret Mat'kal (General Staff Reconnaissance Unit 269.) This storied unit is the pointy tip of the Israeli counterterrorism spear, and has participated in Israelis most daring raids.
Tuesday's commando raid in the Bekaa Valley is not the first operation of its kind attempted by Israeli forces. On July 30, Arutz Sheva reported Israeli helicopters were thwarted from landing in the Bekaa Valley after taking fire from Lebanese Army anti-aircraft batteries.
Are you a dedicated reader of FDD's Long War Journal? Has our research benefitted you or your team over the years? Support our independent reporting and analysis today by considering a one-time or monthly donation. Thanks for reading! You can make a tax-deductible donation here.