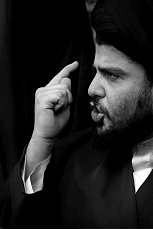 Muqtada al Sadr.
Muqtada al Sadr, the Iranian-backed, pseudo-cleric derisively known as Mullah Atari and hailed in US media circles as "the most powerful man in Iraq," has returned from his self-imposed three-year-plus-long exile in Iran.
Sadr left Iraq after the US and Iraqi security forces stepped up operations against his now-disbanded Mahdi Army in early 2007. Sadr claimed he went to Qom to further his religious studies, but in reality he feared being swept up in US and Iraqi operations.
Sadr's Mahdi Army was crushed during an Iraqi-led offensive that began in Basrah in March 2008, and spread to Baghdad and much of the provinces between the two cities throughout the summer and fall. In Baghdad's Sadr City alone, Mahdi Army commanders admitted to losing more than 1,000 fighters, with thousands more wounded.
During the crushing operations, Sadr claimed to have initiated a ceasefire. And after suffering a stinging defeat, he then claimed to have disbanded the Mahdi Army and puts its fighters to humanitarian efforts, save a few hundred fighters reserved to the Promised Day Brigades, which is assigned solely to attacking US forces.
Sadr returns to Iraq not as the conqueror of the Americans, but as the man who engineered a backdoor deal that put his enemy, Prime Minister Nouri al Maliki, back into power (Maliki, as prime minister, directed operations against the Mahdi Army from 2007-2009). The Sadrist Trend has 39 seats in parliament; but not all of the Sadrists support Muqtada. And Sadr doesn't have nearly the street cred he had at the height of his power, in the fall of 2006 when Mahdi Army death squads terrorized Baghdad and other Iraqi cities. Sadr has now been reduced to squabbling with the Asaib al Haq, or League of the Righteous, a violent Mahdi Army offshoot that disdains Sadr.
The Iraqi government still has an outstanding warrant for his arrest for his involvement in the assassination of Sayyid Abdul Majid al Khoei in April 2003 after the fall of Saddam Hussain's government. There is little chance Sadr will be held to account for the murder of Khoei or his involvement in the murder of thousands of Iraqis at the hands of his Mahdi Army. An open question is whether Sadr will be satisfied with his reduced role, or if he will continue to threaten the security of the Iraqi state.
Are you a dedicated reader of FDD's Long War Journal? Has our research benefitted you or your team over the years? Support our independent reporting and analysis today by considering a one-time or monthly donation. Thanks for reading! You can make a tax-deductible donation here.