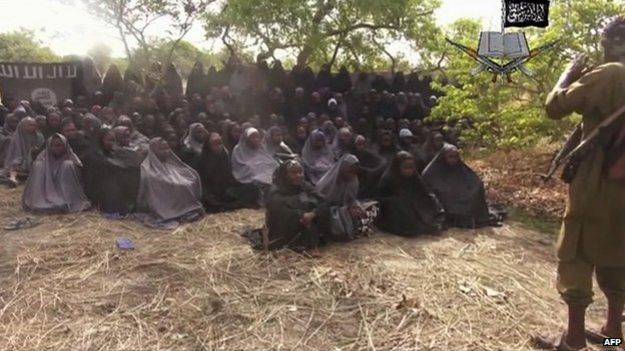 Boko Haram shows girls kidnapped from Chibok in a video released in May (Photograph from AFP)
West African terrorist outfit Boko Haram reportedly kidnapped over four hundred young women and children as it fled from the northeastern Nigerian town of Damasak earlier this month. The jihadist group was driven out of the town by troops from Niger and Chad over the weekend of March 7.
Near the border with Niger, Damasak was originally taken over by Boko Haram in November. The fighters had posed as traders when they attacked the town's market. In the initial attack, many soldiers and townspeople fled.
One trader stated that in Tuesday's attack, the insurgents "took 506 young women and children [in Damasak]. They killed about 50 of them before leaving … We don't know if they killed others after leaving, but they took the rest with them." Townspeople reported that the terrorists rounded up their captives in the main mosque before taking them away. The exact number has yet to be confirmed by officials.
Boko Haram received international attention last April when the group kidnapped over 200 girls from the Government Girls Secondary School in Chibok. In the attack, the group arrived in a coordinated convoy of some 60 vehicles, including 40 motorcycles. Nigerian forces have yet to locate and rescue the girls.
Three weeks after they were kidnapped, Boko Haram leader Abu Bakr Shekau threatened in a video "I abducted your girls. I will sell them in the market, by Allah."
Boko Haram displayed the girls dressed head-to-toe in traditional Islamic garb in another video released a week later, stating they had been "converted" to Islam. Shekau later claimed that the girls were married off.
It is not clear yet what Boko Haram will get from their new captives taken from Damasak. However, a Nigerian official commented that they are being used as "human shields."
During the second half of 2014, Boko Haram stepped up its campaign to carve out a caliphate in northeastern Nigeria. At one point, the group had taken control over a significant portion of the area. However Nigeria, joined by forces from Chad and Niger, launched a coordinated offensive against Boko Haram earlier this year, retaking much of the territory the group had controlled.
Nevertheless, attacks launched last week coupled with an additional mass kidnapping illustrate that the jihadist insurgency remains a threat.
Are you a dedicated reader of FDD's Long War Journal? Has our research benefitted you or your team over the years? Support our independent reporting and analysis today by considering a one-time or monthly donation. Thanks for reading! You can make a tax-deductible donation here.