Subpage: 184
Results tagged "Iraq"
Would you like to limit the tag results display to a specific section?
If you do, then pick any of the sections below:
Or simply go to the aggregated tag results from:
The Paradise Boys: The Internal Debate over the Use of Child Jihadis in Iraq
---
---
Coalition forces killed one al Qaeda operative and detained eight, including a suspect in yesterday's suicide bombing in Karmah, during raids in central and northwest Iraq. The Mahawil Emergency Response Unit detained five al Qaeda operatives. Twenty-five wanted Mahdi Army fighters surrendered in Maysan province. US troops captured eight Mahdi Army fighters in the Rashid district in Baghdad.
---
US troops nab suspect in deadly Iraq suicide bombing
---
Iraqi judge slain in drive-by shooting
---
Rag-tag force watches over Baghdad militia hotspot
---
---
Iraq: Angry youth are new recruits for extremists, says report
---
Militia in Saddam's home province told to lay down arms
---
The US military named al Qaeda's leader in Mosul who was killed during a raid on June 24. Al Qaeda killed 36 people, including three US Marines, in attacks in Karmah and Mosul. Iraqi security forces arrested 49 "wanted persons" in Baghdad. US and Iraqi troops captured 16 al Qaeda fighters in Diyala. Iraq may sue the United Nations over corruption charges in the Oil-for-Food program.
---
Abu Khalaf had close links with foreign terrorists. Al Qaeda conducts two successful attacks in Anbar and Mosul. Anbar is set to transfer to Iraqi control this weekend.
---
US still searching for answers in Hurriyah
---
Bombings kill dozens, 3 US Marines in Iraq attacks
---
Sunni Saudi cleric visits Shi'ites to ease tension
---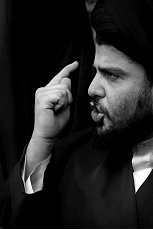 An Iraqi intelligence report said more than 2,000 Mahdi Army fighters were killed during fighting over the past several months. "This led to the almost complete collapse of the army." Operations against the Mahdi Army continue in Baghdad and the South.
---
Bombers kill nearly 40 in Iraq
---
Mahdi Army militia 'going underground'
---
Al Qaeda's Islamic State of Iraq's latest propaganda video contains video from two Kuwaiti terrorists behind attack in Mosul. Images from
The Long War Journal
were used from the attack on COP Inman.
---
The US Army and the Iraqi police conduct a series of raids against the Mahdi Army Special Groups in northeastern Baghdad.
---
Iraq integrates 9000 awakening council members into Baghdad police
---