Subpage: 8
Results tagged "Iraq"
Would you like to limit the tag results display to a specific section?
If you do, then pick any of the sections below:
Or simply go to the aggregated tag results from:
The Interior Ministry continues building a National Emergency Response Brigade while training and arming the forces continues.
---
The Long War Journal's
roundup of the major developments in the primary and secondary theaters during the past year.
---
A "commander of Iranian special operations in Iraq" and an associate were detained in Diyala province.
---
While much is known about the development of the Iraqi Security Forces, there are major gaps in the publicly available information concerning these forces.
---
Iraq's National Police will begin to take over internal security as capabilities increase, freeing the Army to focus on external threats.
---
An Iraqi soldier who has served for four years was behind last week's shooting that killed two American soldiers and wounded six. His motive is still unclear.
---
Iraqi forces are massing in Mosul to battle al Qaeda and the insurgency.
---
Seven Hezbollah Brigades terrorists have been captured or killed during raids over the past three days.
---
Armored and mechanized forces convert the existing, basic light infantry force into a heavier, more capable force able to deal with external threats.
---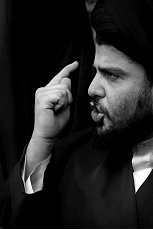 The move may signal a change in posture against the Mahdi Army and Muqtada al Sadr. It also highlights the decline of the Sadrist movement over the past two years.
---
Recent weapons purchases shed light on the possibile force structure of Iraqi Army's light armored forces, including reconnaissance and cavalry units.
---
Al Qaeda suspected of using a mentally handicapped female suicide bomber in one of the attacks outside of Baghdad's Green Zone.
---
The US commander of Multinational Division North assesses the security situation in Mosul during a visit to the northern city.
---
Eight League of the Righteous operatives and six Hezbollah Brigades operatives are captured in Baghdad over the past 24 hours.
---
Hajji Hammadi, al Qaeda's emir in Karmah and Abu Ghraib, was behind numerous deadly attacks, including the suicide bombing in June that killed a US Marine battalion commander. Hammadi is the fourth senior al Qaeda leader killed in the past six weeks.
---
The Iraqi Army is equiping seven to eight light divisions, including commando, air assault, mountain units.
---
Iraqi Army and Police units are at the forefront of the fighting in Mosul, a city often described as al Qaeda's last urban stronghold in Iraq.
---
The Iranian agent used a construction company as cover to enter Iraq. US forces found cocaine in his possession.
---
Soldiers from the 1st Battalion, 502nd Infantry Regiment reflect on a year's tour in Northwestern Baghdad, where the security situation has improved drastically since last spring, and the changing nature of the mission.
---
Abu Ghazwan was behind numerous attacks in the Tarmiyah region, including a bombing that seriously wounded the leader of the Sons of Iraqi who helped restore the peace.
---