Subpage: 12
Results tagged "Iraq"
Would you like to limit the tag results display to a specific section?
If you do, then pick any of the sections below:
Or simply go to the aggregated tag results from:
Kurdish press report Iraqi Army movements as a threat, but the purpose of these movements is to provide election support and the training of a new division headquarters and two new brigades.
---
The Iraqi Army is devoid of artillery assets, a crucial element that prevents it from operating independently. This is expected to change over the next several years.
---
The 9010 report outlines the transition of the five remaining provinces to Iraqi control. Budget shortfalls due to falling oil prices will hamper the growth of the Iraqi Security Forces in 2009.
---
The development of engineering units is crucial in allowing the Iraqi Security Forces to independently support operations and clear roadside bombs.
---
An Iraqi battalion shifts from Baghdad to the northern city of Mosul to conduct counterinsurgency operations.
---
An attack at a checkpoint in Baghdad comes two days after an attack at a tribal reconciliation meeting in Yusafiyah and as Iraqi security forces are asserting control.
---
The Interior Ministry continues building a National Emergency Response Brigade while training and arming the forces continues.
---
The Long War Journal's
roundup of the major developments in the primary and secondary theaters during the past year.
---
A "commander of Iranian special operations in Iraq" and an associate were detained in Diyala province.
---
While much is known about the development of the Iraqi Security Forces, there are major gaps in the publicly available information concerning these forces.
---
Iraq's National Police will begin to take over internal security as capabilities increase, freeing the Army to focus on external threats.
---
An Iraqi soldier who has served for four years was behind last week's shooting that killed two American soldiers and wounded six. His motive is still unclear.
---
Iraqi forces are massing in Mosul to battle al Qaeda and the insurgency.
---
Seven Hezbollah Brigades terrorists have been captured or killed during raids over the past three days.
---
Armored and mechanized forces convert the existing, basic light infantry force into a heavier, more capable force able to deal with external threats.
---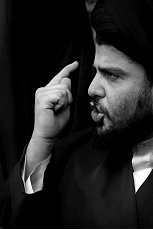 The move may signal a change in posture against the Mahdi Army and Muqtada al Sadr. It also highlights the decline of the Sadrist movement over the past two years.
---
Recent weapons purchases shed light on the possibile force structure of Iraqi Army's light armored forces, including reconnaissance and cavalry units.
---
Al Qaeda suspected of using a mentally handicapped female suicide bomber in one of the attacks outside of Baghdad's Green Zone.
---
The US commander of Multinational Division North assesses the security situation in Mosul during a visit to the northern city.
---
Eight League of the Righteous operatives and six Hezbollah Brigades operatives are captured in Baghdad over the past 24 hours.
---