Subpage: 210
Results tagged "Iraq"
Would you like to limit the tag results display to a specific section?
If you do, then pick any of the sections below:
Or simply go to the aggregated tag results from:
Ominous Signs Remain in City Run by Iraqis
---
US troops setting down roots in Mosul
---
Muqtada al Sadr has extended the Mahdi Army cease-fire. Iraqi troops killed a Mahdi Army commander in Baghdad. US soldiers captured a Special Groups cell leader in the Rashid District of Baghdad. Coalition forces killed six al Qaeda operatives and detained six during raids in central and northern Iraq. Five Iraqis were killed and 10 were wounded in a suicide attack outside a mosque in Fallujah. One Iraqi was killed and five wounded in a car bomb explosion in Baghdad.
---
Yesterday's reports from Sadr representatives were correct. Multinational Forces Iraq commends the extension but warns "criminal" elements will be targeted.
---
Gordon Alanko, currently embedded with US forces in Iraq, provides this pictorial of a one-day medical clinic in Sayifiyah in southern Arab Jabour.
---
General David Petraeus reveals plans to scale back Iraq troops
---
Coalition forces killed one al Qaeda operative and detained 20 during raids in central and northern Iraq. US troops detained a Special Groups commander and five "extremists" in Baghdad™s Sha™ab neighborhood. US troops found an EFP and weapons cache in West Rashid, Baghdad. Iraqi troops clashed with "armed groups" in Basrah.
---
Sadr's Militia Enforces Cease-Fire With a Deadly Purge
---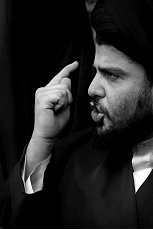 Senior Sadr officials tell
Reuters
Muqtada al Sadr will extend the existing Mahdi Army cease-fire by six months. Orders have been sent to Sadrists clerics to be read at Friday prayers. US and Iraqi pressure has influenced Sadr's decision.
---
US forces killed a senior al Qaeda intel officer behind female bomb attacks. Three Iraqi children were killed and seven were wounded in a mortar attack in Balad. Seven civilians were killed and 17 were wounded in a suicide bombing at a market in Miqdadiyah. Two civlians were killed and four were wounded in a car bomb attack in Tal Afar. The Jurf Al Sakhr Awakening has resumed operations with the US military. The Sadrist movement denied it was withdrawing from a truce with the SIIC.
---
Al Qaeda in Iraq intelligence officer behind female suicide bombers used in Baghdad and the Diyala River Valley killed by Task Force 88. Operations to root out al Qaeda in Diyala continue.
---
Shi'ite cleric Sadr keeps Iraq guessing over truce
---
Trial of 2 Ex-Officials in Iraq Is Delayed as Witnesses Fail to Show
---
15 Iraqis killed as team tries to defuse rockets
---
Coalition forces detained six al Qaeda operatives during raids in central and northern Iraq. Police arrested six wanted insurgents in Kirkuk. Police arrested 11 members of the Soldiers of Heaven in Hillah. One Iraqi soldier was killed and three were wounded in a suicide attack targeting an Iraqi Army checkpoint in western Mosul.
---
UK troops continue mentoring and support role in Iraq
---
---
Turkey weighing land operation vs PKK in Iraq: TV
---
Admiral: Al Qaeda in Iraq 'killing off' former allies
---
US tries to bridge gap between Iraqi rivals
---